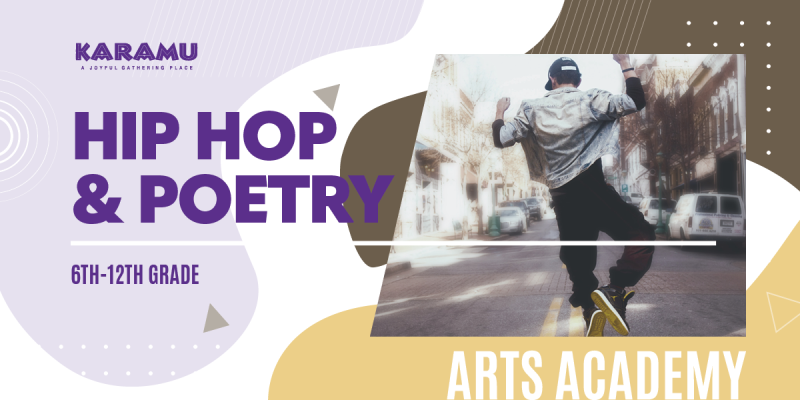 HIP HOP & POETRY: 6th-12th Grade
with DEVARIAN NORRIS
$14900
Take 50% off with code FALL50 if you make a full payment today! Payment Plans are also available at check out.
A limited number of Financial Scholarships are available to those who qualify. Contact Latecia Wilson at lwilson@karamuhouse.org for assistance with scholarships.
Age:               6th-12th Grade
Duration:       45 minutes
Frequency:     2 days per week
Schedule:       Mondays at 4:00p p.m. EST and Thursdays, 5:00 p.m. EST (Sept 28 - Nov 16, 2020) 
Size:              30 maximum
Materials provided? Yes (see below)
Description: 2020 is the year we celebrate the 100-year anniversary of the Harlem Renaissance. A year celebrating African American innovation and creativity. One of the greatest examples of innovation and creativity of black culture, is Hip Hop. This course will focus on the history and techniques of Hip Hop dance and culture.
Students will undergo an exploration of Langston Hughes poetry and poetry of the Harlem Renaissance Era. Through these explorations, artists will develop original poetry for showcasing.
Students will participate in both artistic disciplines and will be highlighted in both disciplines OR in the discpline they feel strongest.
Students who exhibit superb virtual attendance and dedication to the work will be invited to participate in a Short Film Culminating Production. Students who are local residents will receive a scheduled film day in November so that we can have a professional recording in costuming of the work the students build over the course of the session at Karamu House under social distancing restrictions. 
You will receive orientation information upon sign up to ask questions and receive film details.
Materials Included: Each student will receive a supply kit via USPS mail, which includes writing utensils, highlighter, notebook and guide.
About the Instructor: Patrick Warner, Poet
Pat.W is a musician, actor, poet from Cleveland, Ohio. Born and raised in the Buckeye-Shaker neighborhood,  Pat.W is fearless and unapologetic when it comes to expressing himself through multiple mediums of art such as poetry, music, acting, etc. With this, Pat is a two-time member of the One mic open Cleveland youth poetry slam team (2015-2016) competing in the international poetry slam competition Brave new voices. He has performed at events and venues like Earthfest, Tri-c's Hip Hop Homecoming, Grog Shop, Symposium, Our Voices: Democracy RE:visited, and Temple of Passions. He has since released multiple songs on Spotify, Apple Music, Soundcloud, etc.. He has acted in plays such as Tri-C's Andy and Me, Karamu's Stokes: Believe in Cleveland as the young Carl Stokes, and is currently a student in the level II class at Karamu. A graduate of Shaker Heights High and Cuyahoga Community College in the recording arts and technology program, and a former artist mentor/performer for the hip hop organization Refresh collective. Pat.W continues to evolve and blaze his trail in the Cleveland scene. 
Sep

28

-

Nov

16th

,

2020

Mon and Thu

for

8 weeks

from

5:00 - 5:45 pm

Will run
Online Class
For more info, call us at (216) 795-7077