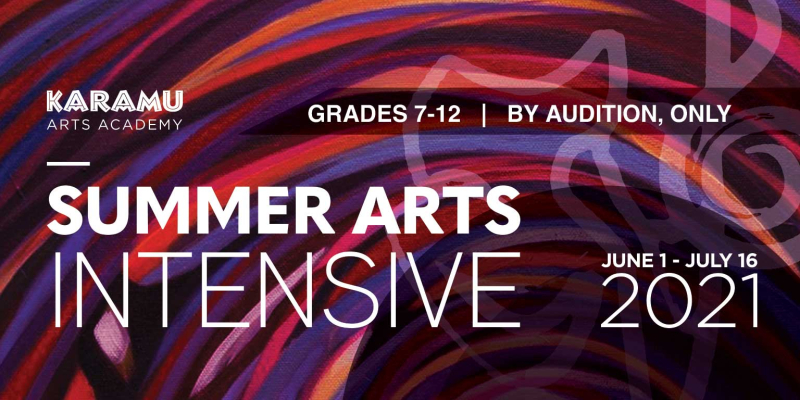 Audition Registration for Summer Arts Intensive
Free
Karamu House will host its annual Summer Intensive for a limited number of students entering grades 7-12 from June 1 - July 16, 2021 (7-week session). The Summer 2021 Arts Intensive will be delivered in a hybrid learning environment, both in-person (2355 E. 89th Street, Cleveland, Ohio) and virtual. 
Acceptance into this program will be limited. Video audition submissions are required. 
If you are interested in applying, you must register for an audition and submit your video no later than Sunday May 16, 2021 at 5pm. 
Once registered, you will receive an email with detailed instructions on the audition process, including video submission guidelines and an invitation for a phone or video interview. All applicants will be notified by May 19, 2021.

ADDITIONAL DETAILS ON THE
KARAMU SUMMER 2021 ARTS INTENSIVE
LOCATION & SCHEDULE:
On-site with in-person learning at Karamu House 
Monday, Wednesday & Friday (10 a.m. - 3:30 p.m.)

Virtual learning
Tuesday & Thursday (Self paced with 2 hour commitment)

COST:
$825 (~$118 per week)
*Financial aid and scholarships are available for those that qualify. 

DESCRIPTION:
Karamu House still stands tall as America's oldest Black producing theatre. Today, our mission is to produce professional theatre, provide arts education, and present programs for all people while honoring the African American experience.
This summer, from June 1 through July 16, 2021, the Karamu Summer Arts Intensive will be honoring and celebrating the African drum and its impact throughout the diaspora. The Summer Arts Intensive is designed for students entering grades 7-12 with intensives on dance, drama and vocal performance.
The Intensive will be held in a hybrid learning environment, providing on-site learning Monday, Wednesday & Friday (10 a.m. - 3:30 p.m.) and virtual learning Tuesday & Thursday (self paced).
Due to health and safety restrictions for on-site learning, only a limited number of students will be able to join this year's Summer Arts Intensive. Auditions and interviews are required.
Selected students will participate in a Karamu original production (filmed) following the djembe drum; its rhythms, stories and impact. When our hands connect with a drum, the vibrations unite our energy, our emotions, our stories, our hopes ... and we become whole again.  

QUESTIONS?
Contact Latecia Wilson, Arts Education Manager, via email at lwilson@karamuhouse.org.
Online Class
For more info, call us at (216) 795-7077